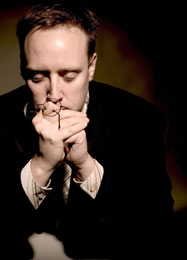 In 2001 Robin de Raaff was invited to join the Composition Faculty at the Classical Music Academy of the Conservatory of Rotterdam where he teaches composition and orchestration. Together with classical contemporary composers Klaas de Vries and Peter-Jan Wagemans, and electro-acoustic composers René Uijlenhoet and Jan-Bas Bollen, De Raaff is part of a versatile composition team that in the recent years includes the composition department of the Jazz Music Academy where composer Paul van Brugge is the central figure. Putting together these seemingly independent and remote fields of composition make up for a very open and dynamic academic structure where the exchange of artistic ideas on every level is the prime goal for students and teachers.

Furthermore, in 2007 De Raaff became the Coordinator of the Composition Department at the Rotterdam Classical Music Academy. This puts him at the heart of the department's extracurricular activities and composition workshops with the Dutch ensembles such as Schönberg Ensemble, Asko Ensemble, Nieuw Ensemble and Ensemble De Ereprijs.

Some personal views on teaching composition and orchestration by Robin de Raaff
-- Musical composition can only thrive from devotion to and passion for music.
-- Find the core talent of the composition student, that specific and unique quality that is naturally there, and expand his/her musical realm.
-- Enable the student to find their own true voice and composition techniques to develop this voice into a complete and interesting musical language.
-- Written music only starts to behave like real music if the grasp on the overall structure is evidently controlled by the composer.
-- Knowledge of the great literature of western classical music, from as broad a perspective as possible, and an interest in and respect for all other musical traditions in the world.
-- A higher level of understanding of classical music starts with voracious score reading. However, even more is to be learned from great interpretations, live performances, and listening to how musicians, music and sound behave in an actual acoustical space with an actual audience.
-- Orchestration can only develop in an interesting way if the instrumentational choices are imbedded in the compositional choices.
For more information about the studies of composition at Codarts please visit the website of the Classical Music Academy of the Conservatory of Rotterdam:

Composition Department at Codarts